Featured happenings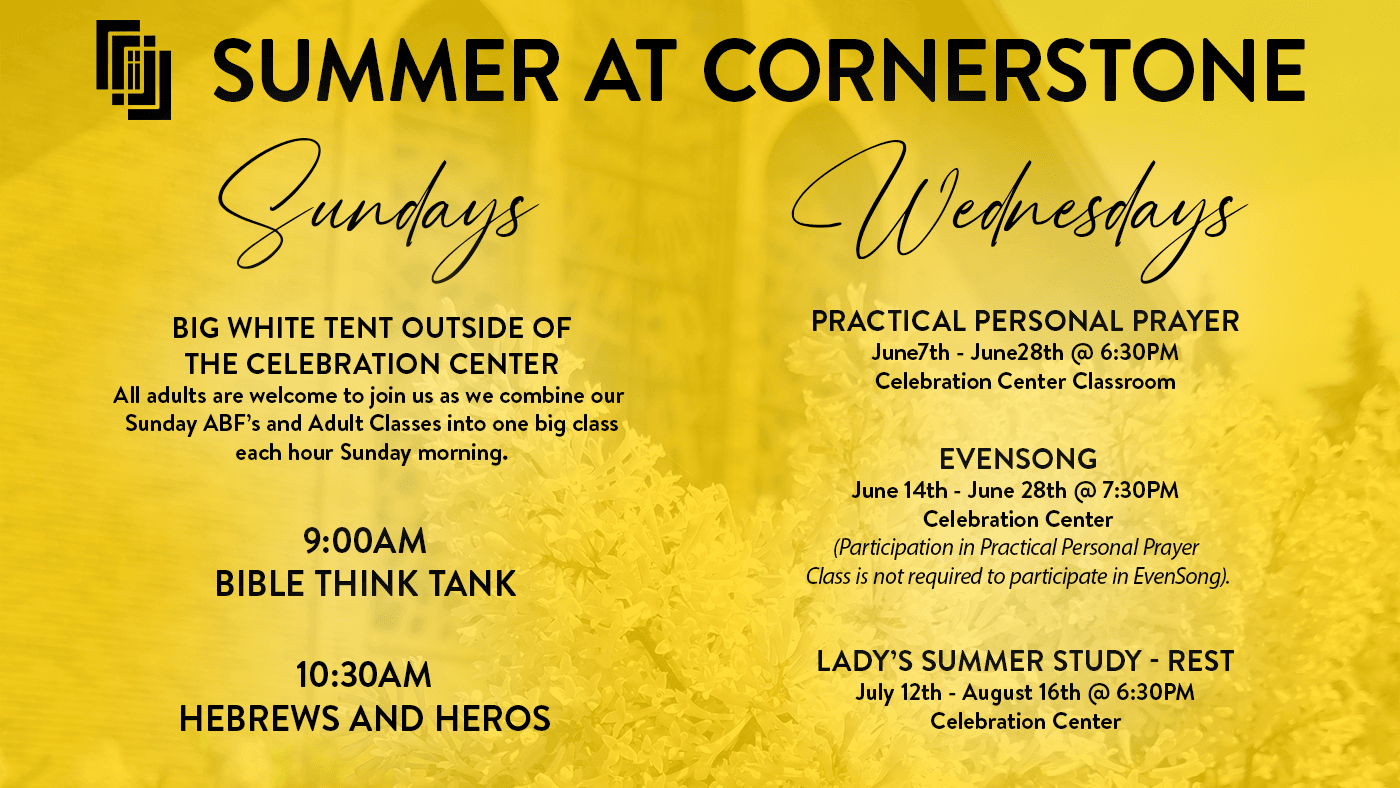 Beginning June 4th our Shine tent will be outside the Celebration Center!
All Adult Sunday Classes are combined into one, for each hour.
Wednesdays are in the Celebration Center and Celebration Center Classroom.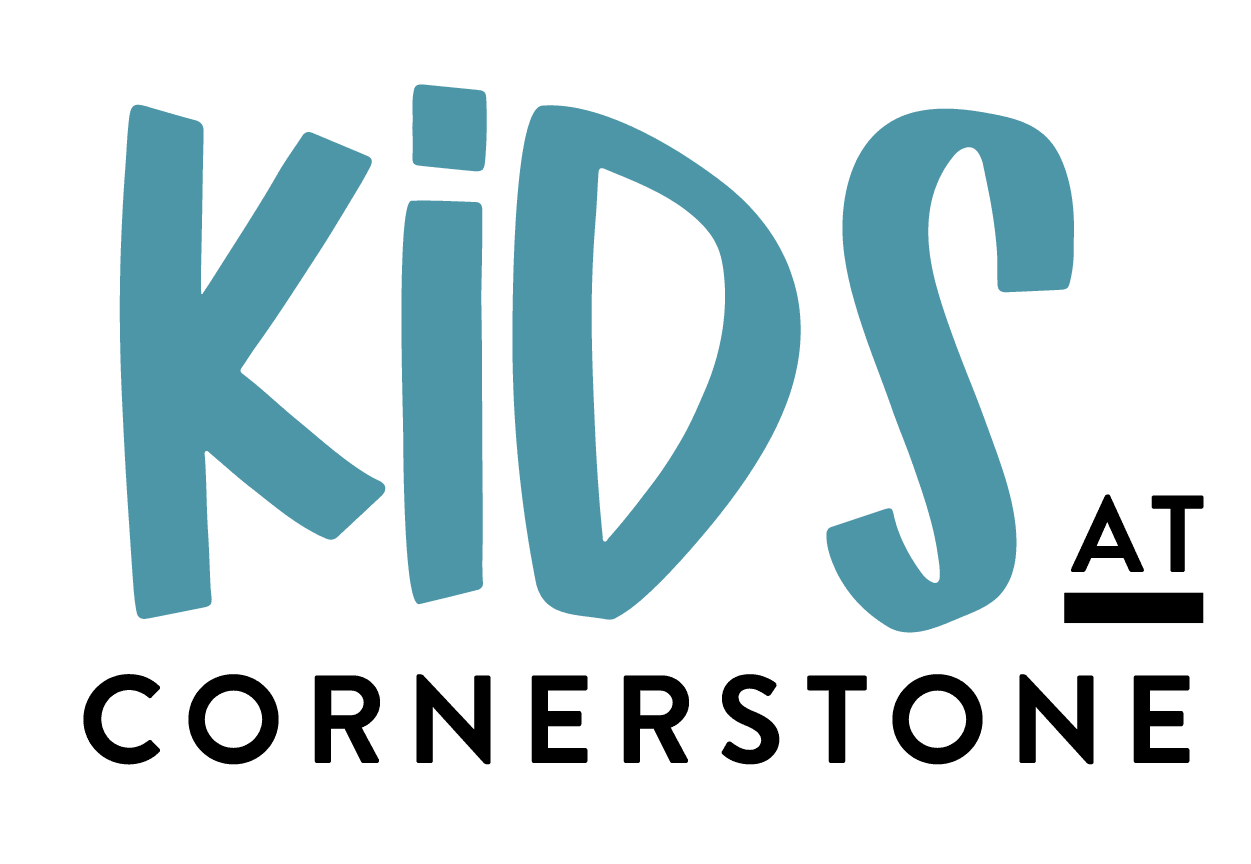 As we prepare for SHINE construction to begin, the Kids Ministry Team is committed to discipling your kids throughout the summer.
Kids Church will run as normal... we'll just be meeting in different locations beginning THIS SUNDAY, JUNE 4TH:
Elementary (1st-5th grades) will check in at the celebration center classroom.
Birth to Kindergarten will check in at the Nursery Kids Check In Desk.
Classrooms are listed below:
Kindergarten & PreK - N4
2 year olds - N5
Infants, Crawlers & Toddlers -N3
The nursing mothers room (N2) will also remain available.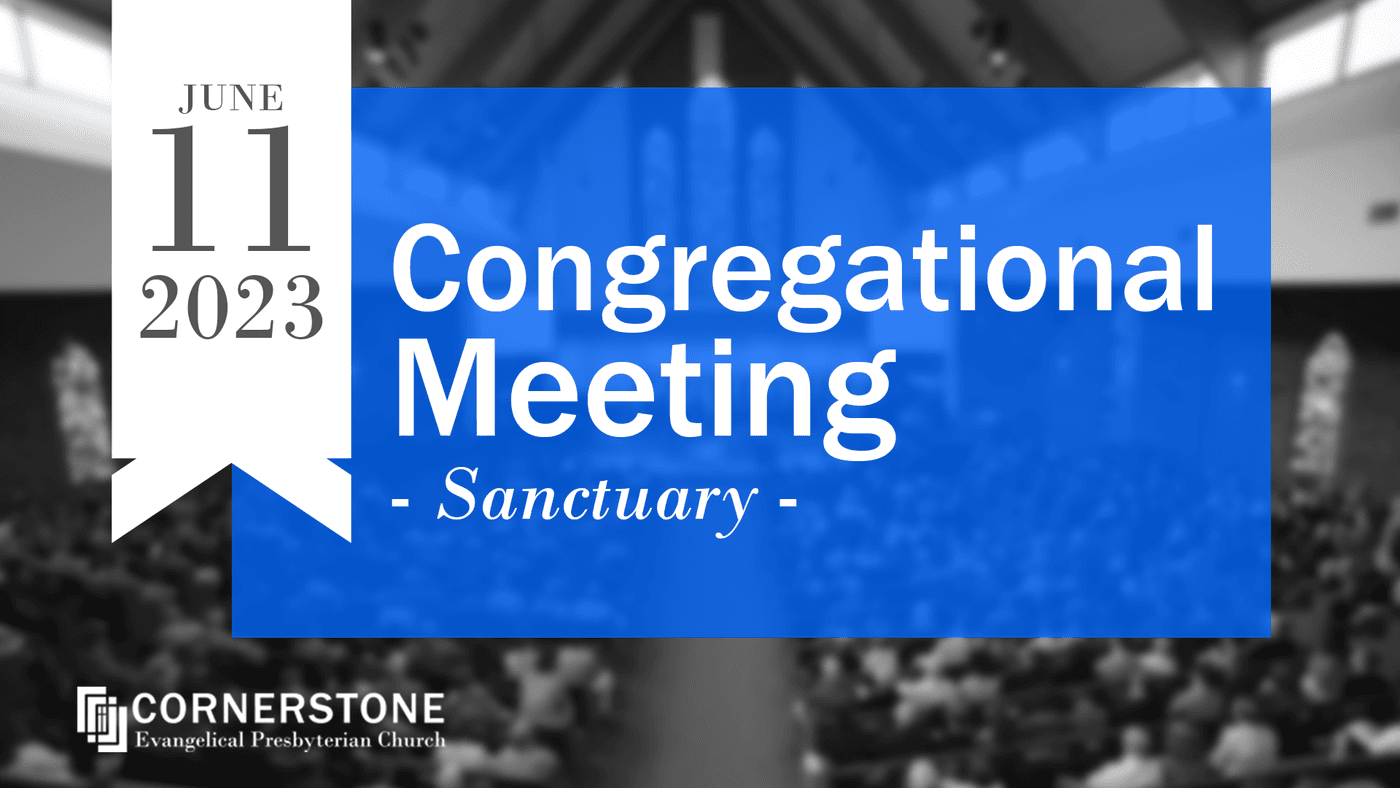 Congregational Meeting June 11, after the second service.
All are welcome to attend! Only Cornerstone Members can vote.
Agenda, Meeting Minutes from the previous meeting and Ministry Overview available for download: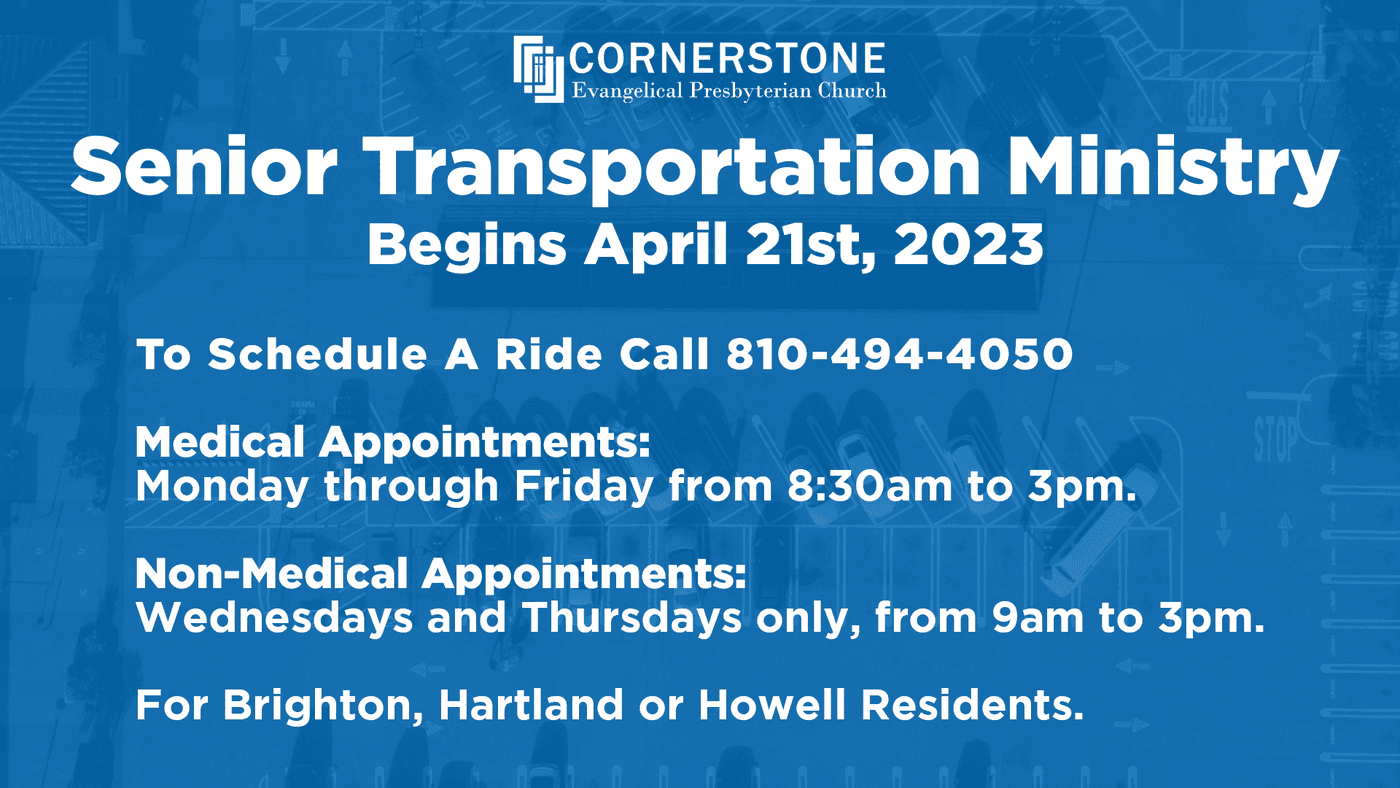 Senior Transportation Ministry
Starting April 21st, our brand new ministry will provide rides for senior adults to medical appointments and other activities, such as grocery shopping, banking, pharmacy, and haircuts.
Call 810-494-4050 and leave a message with your name, phone number, date and time of appointment, and type of appointment. Your call will be returned by the next business day.
Passengers must live in Brighton, Howell, or Hartland, and the appointments also need to be in these cities.
Additional medical appointments in Ann Arbor and Novi may be possible, depending on driver availability.
Passengers must be ambulatory. Walkers, canes, and oxygen are permitted. Wheelchairs are not.
Appointments need to be scheduled 7-10 days in advance. The maximum time allotted for medical appointments is 3 hours, and the maximum hours for other activities is 2 hours. This includes drive time.
The driver stays with the passenger during the appointment. Drivers must be Cornerstone members or attenders and have training and proof of insurance on file.
Calls may be made at any time to the designated phone line for Senior Transportation Ministry.
Medical appointments will be scheduled for Monday – Friday from 8:30AM to 3PM.
Non-medical appointments will be scheduled for Wednesday and Thursday from 9AM to 3PM.
COST
The cost of the ride is a suggested donation of $10 to Cornerstone EPC to cover a portion of fuel costs – if you are able. Passengers will be asked when scheduling the ride if they can afford the donation.
We look forward to serving you!
Care Ministry at Cornerstone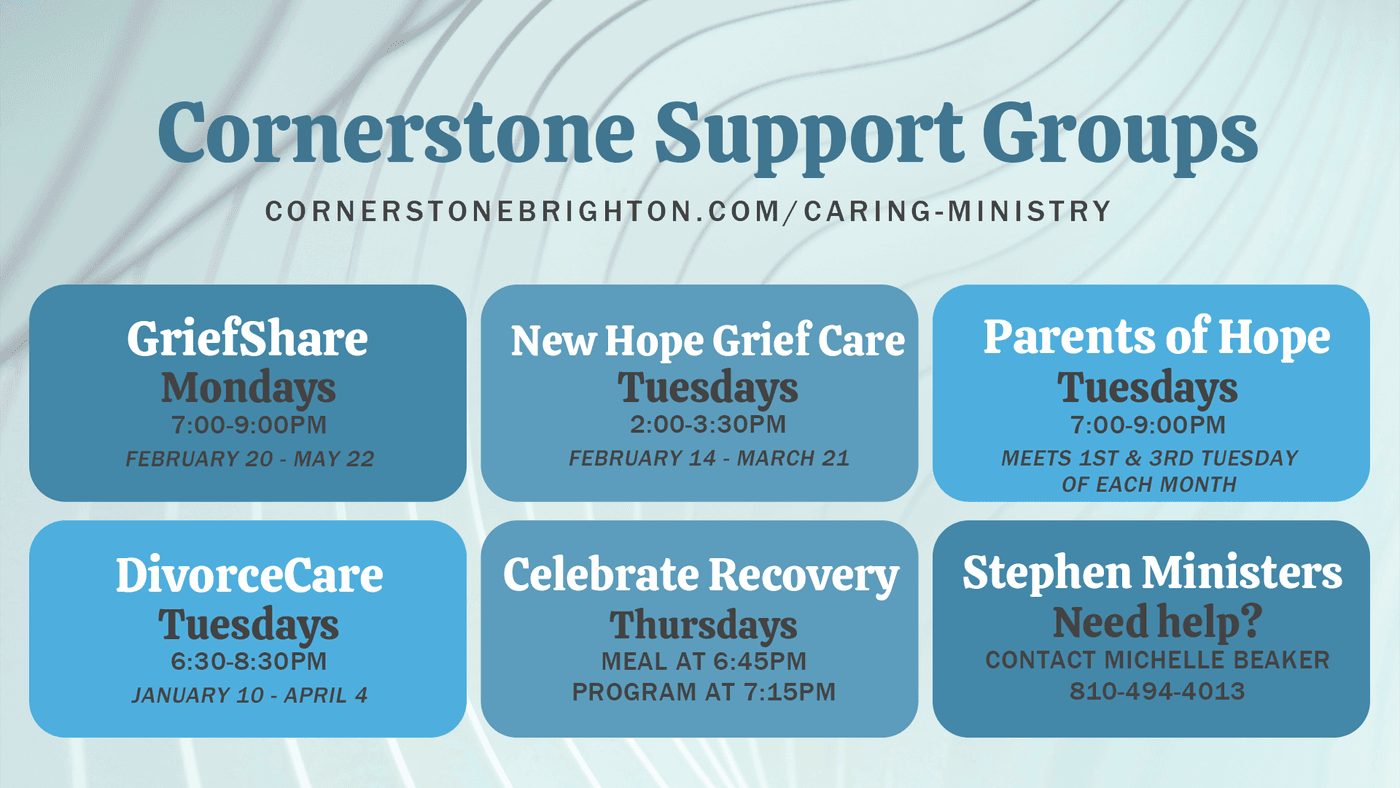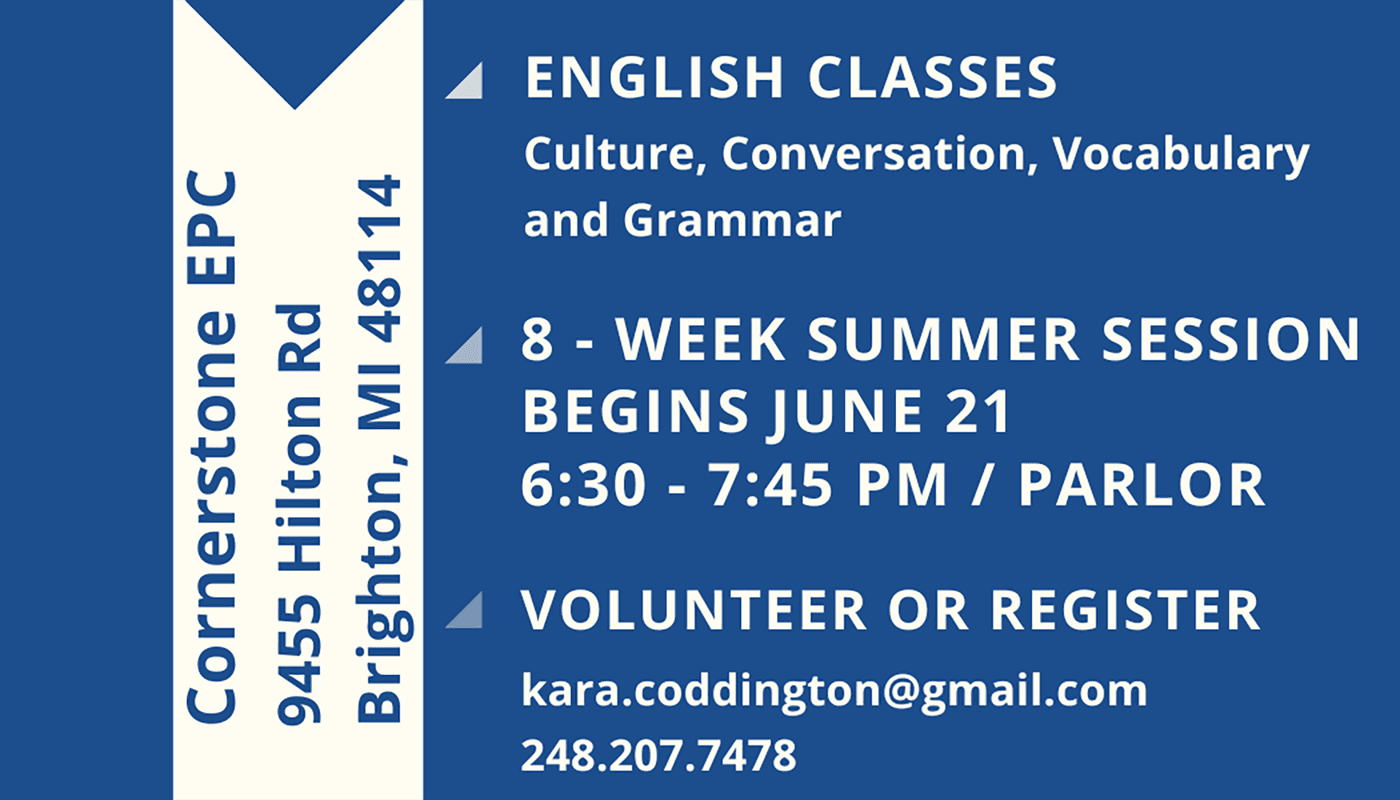 English Classes Wednesday in the Parlor
6:30PM - 7:45PM beginning June 21
Cornerstone would like to offer an opportunity to connect our friends and neighbors in the community to God and the church by offering English classes. Classes will be facilitated by a certified ESL teacher and will include vocabulary, grammar, conversation and culture activities.
Contact Kara Coddington @ coddington@gmail.com or (248) 207-7478.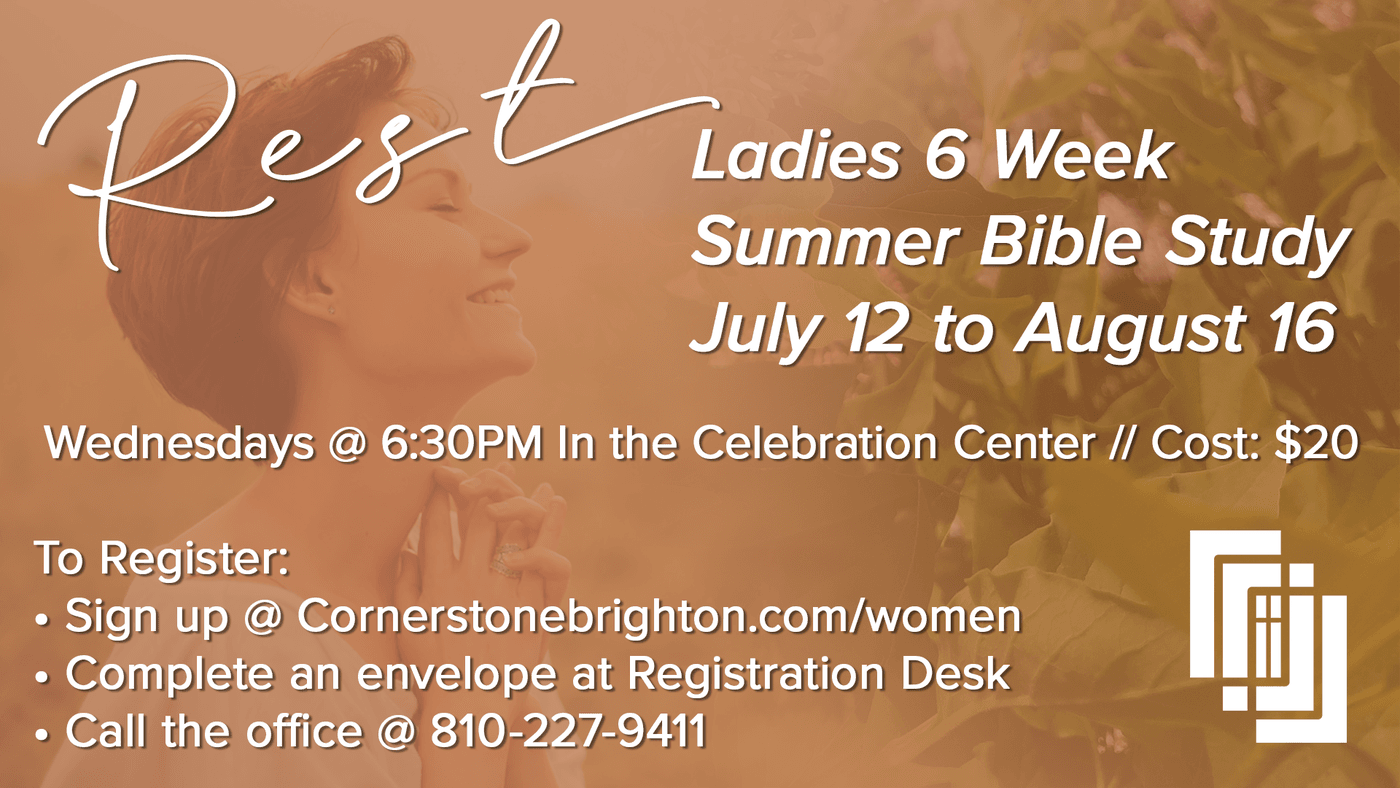 My soul finds rest in God alone! Psalm 62:1
We all encounter weariness and busyness!
We all crave rest physically and mentally, but we can also find it difficult to experience rest in a life full of work, schedules, responsibilities, and stress!
As we prepare for this fall and the new year ahead, let's discover together how to find REST in the midst of all the busyness!
Join the Ladies of Cornerstone as we build friendships and look at God's word to see what He longs to teach us!
This study is a 6 WEEK Study on Wednesday Nights, July 12 -August 16, from 6:30 pm to 8:30 pm.
Located in the Celebration Center.
Led by Sally Jo Friday & Megan Balla.
Registration begins May 22.
Cost $20 per person, includes study book through June 28.
Study book is "Rest - From Eden to Eternity" published by the Daily Grace Company.
Registration after June 28 is $10 per person, study book must be ordered by yourself.
Cornerstone Christian School
Enroll Now!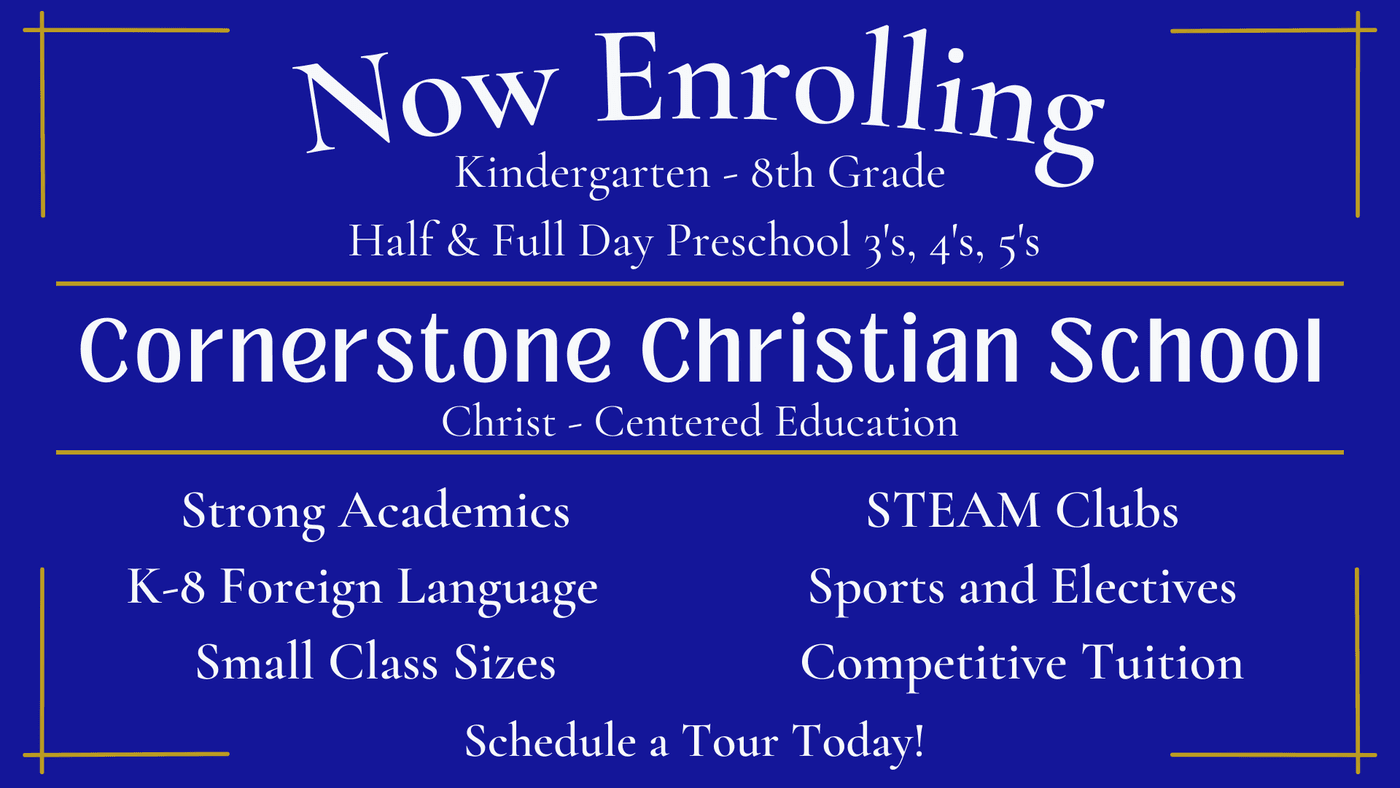 VBS 2023: July 31 to August 3