Featured happenings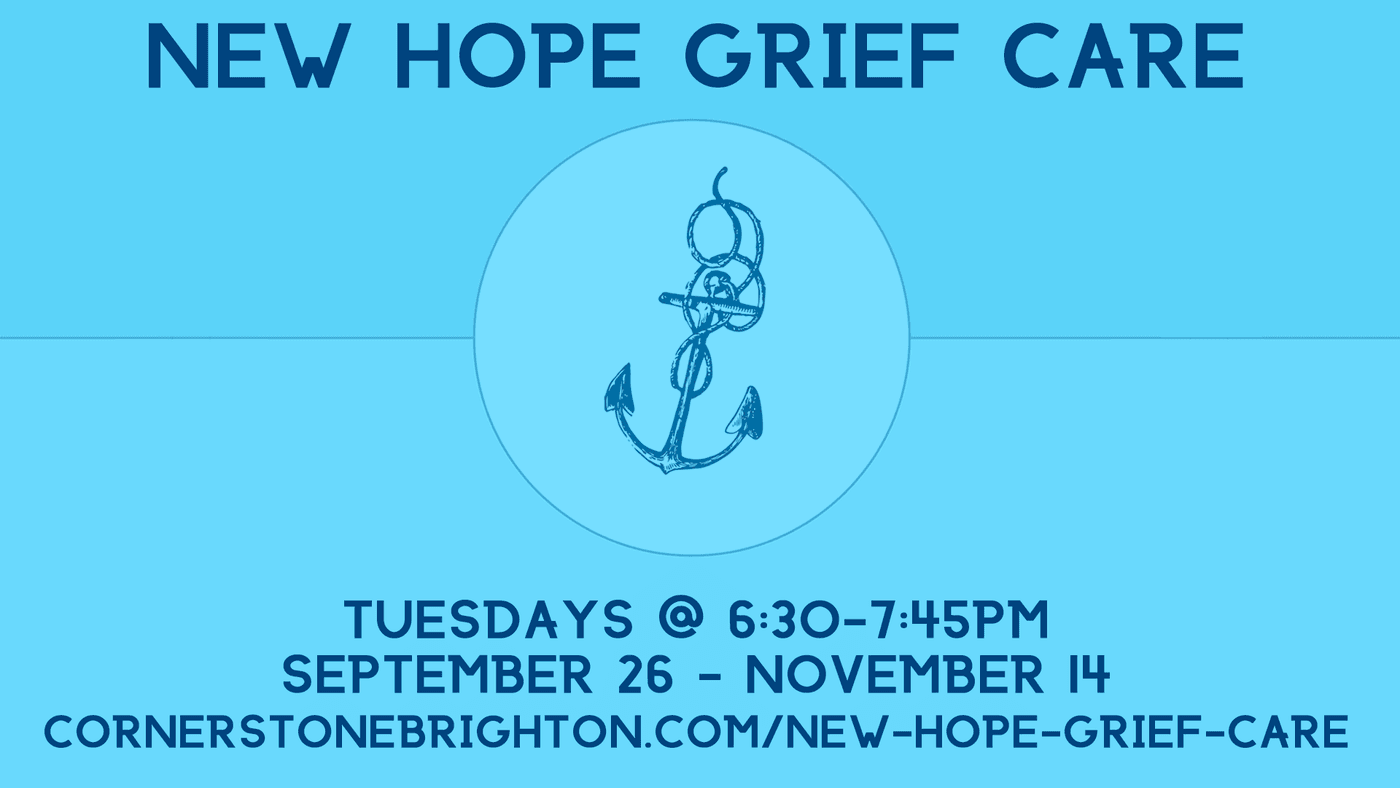 New Hope Grief Care begins this Tuesday September 26.
This class is designed especially for adults who have lost a parent.
Please contact Michelle Beaker for more information: mbeaker@cstoneepc.com.
Missions Weekend 2023
MISSIONS BANQUET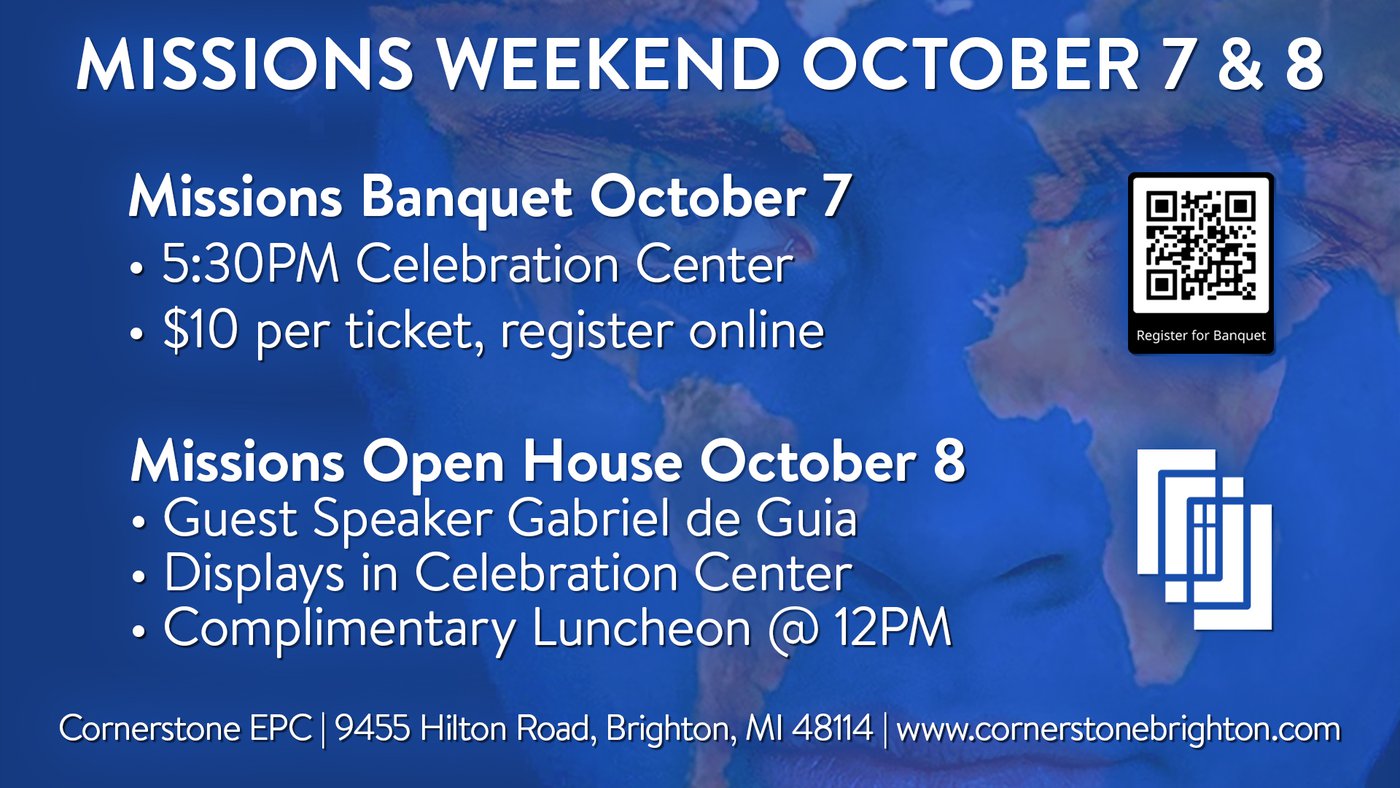 October 7, 2023 @ 5:30PM
Please join us for a special time of fellowship with our supported missionaries and mission agencies. You will have an opportunity to walk around and greet our missionaries at their display tables between 5:30-6:00PM. Dinner will be served by Whisk & Ivy at 6:00PM. Enjoy fellowship around the table and be encouraged by stories from the mission field. Please register for dinner below.
Sunday, October 8, 2023
Please welcome our missionaries at their display tables in the Celebration Center on this very special Missions Open House Sunday. This is a great opportunity to meet some of our missionaries and get a better understanding of some of the ways that Cornerstone seeks to connect to the world.
Special guest speaker, Gabriel de Guia, Executive Director of EPC World Outreach will preach Sunday morning in both services.
You are invited to stay for lunch following the second service. Please take time to introduce yourself to some of our guests and be encouraged by learning more about their ministry.
MISSIONS OPEN HOUSE
Pre-Register for ComeUnity Dinners every Wednesday night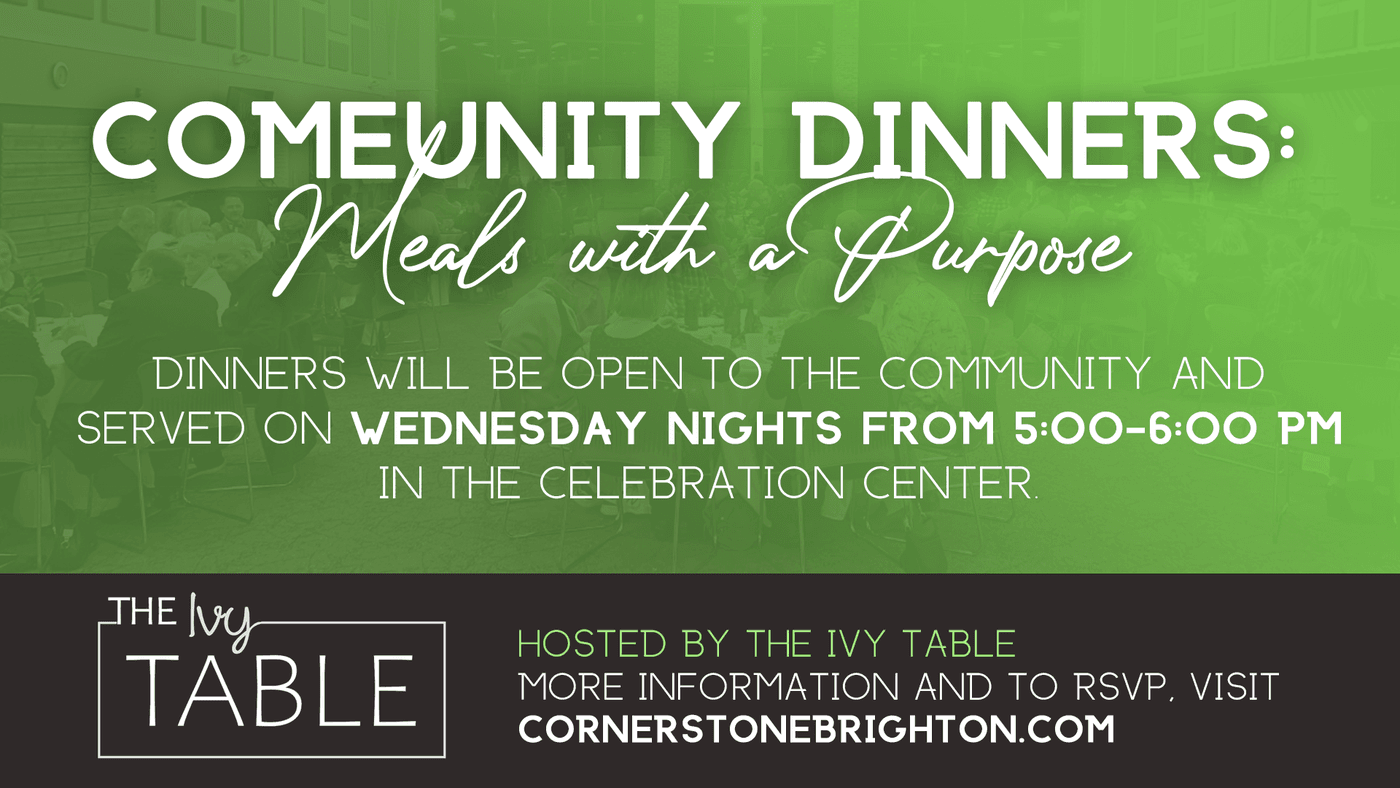 Please get the word out to pre-register for weekly meals, this allows the team to best prepare for the evening!
Suggested donation as $7/meal. Those who can afford to give generously will help cover the costs of those who cannot
and 100% of any proceeds will be used by The Ivy Table to feed those in need.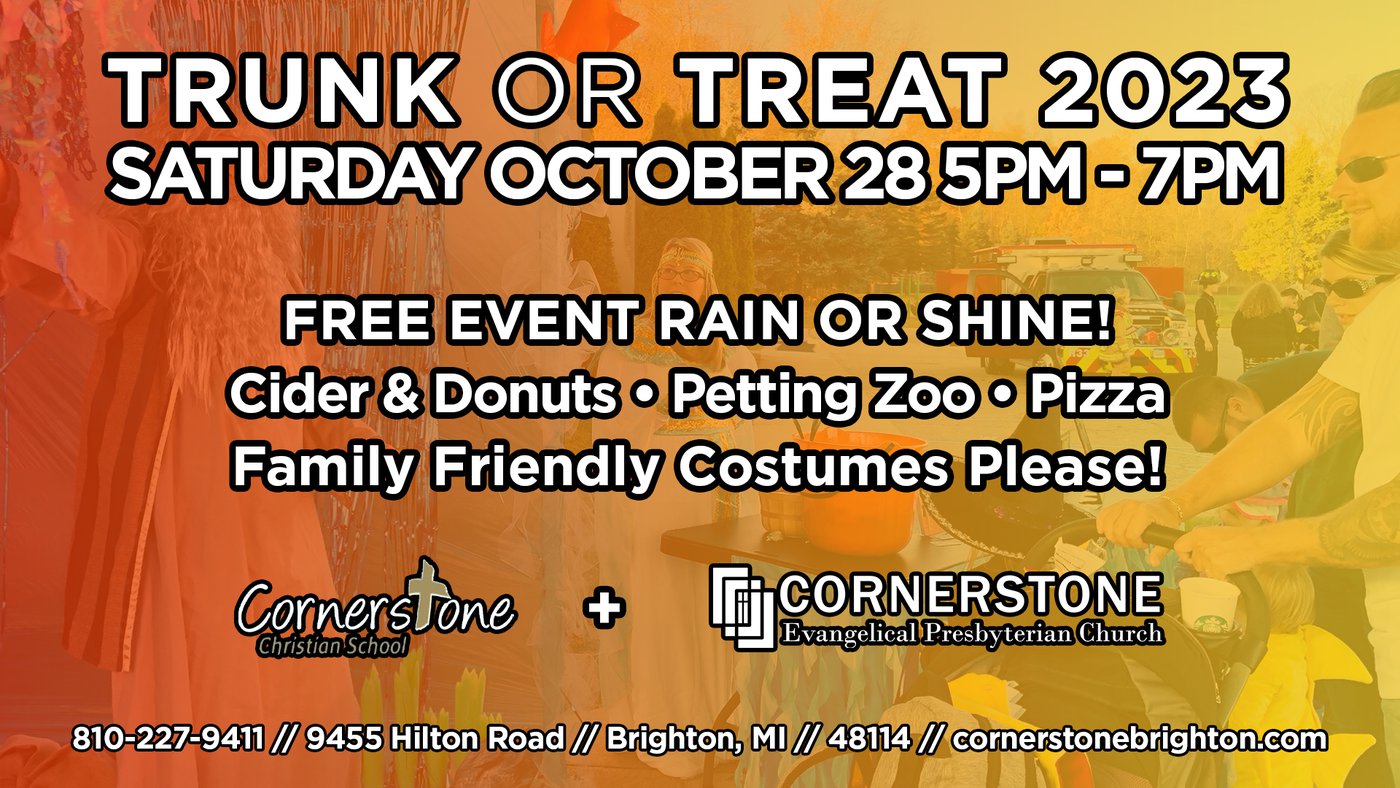 Heads up! Saturday October 28th we will partner with Cornerstone Christian School to host an epic Trunk or Treat for the entire community.
Volunteer sign up and donation opportunities coming in the first week of October!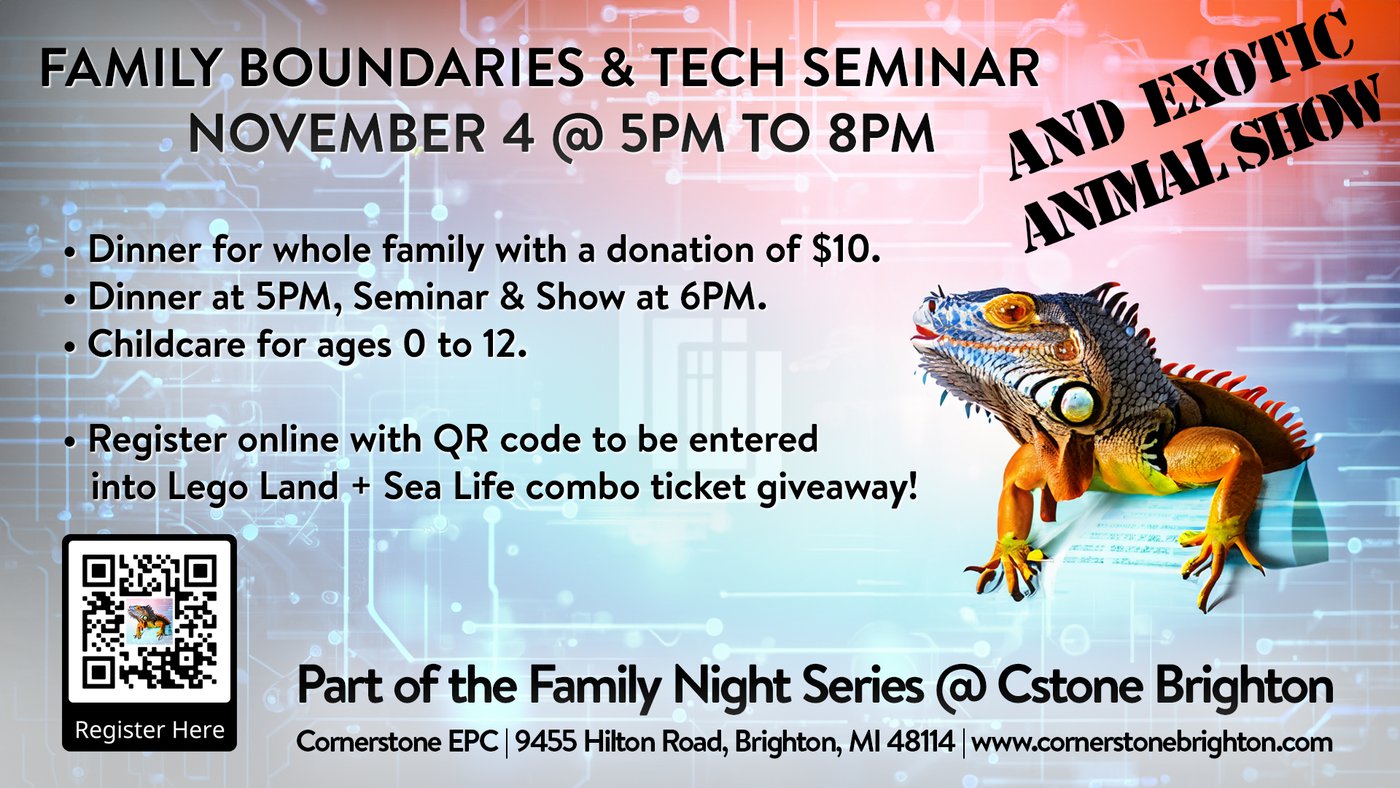 Family Boundaries and Tech Seminar, and Exotic Animal Show!
November 4 @ 5pm to 8pm
This family experience will empower and equip parents to create a world where real life is more compelling than the lives we live on our screen.
Kids will be wowed by Mark Rosenthal's Exotic Animal show, who was voted Nickelodeon's entertainer of the year.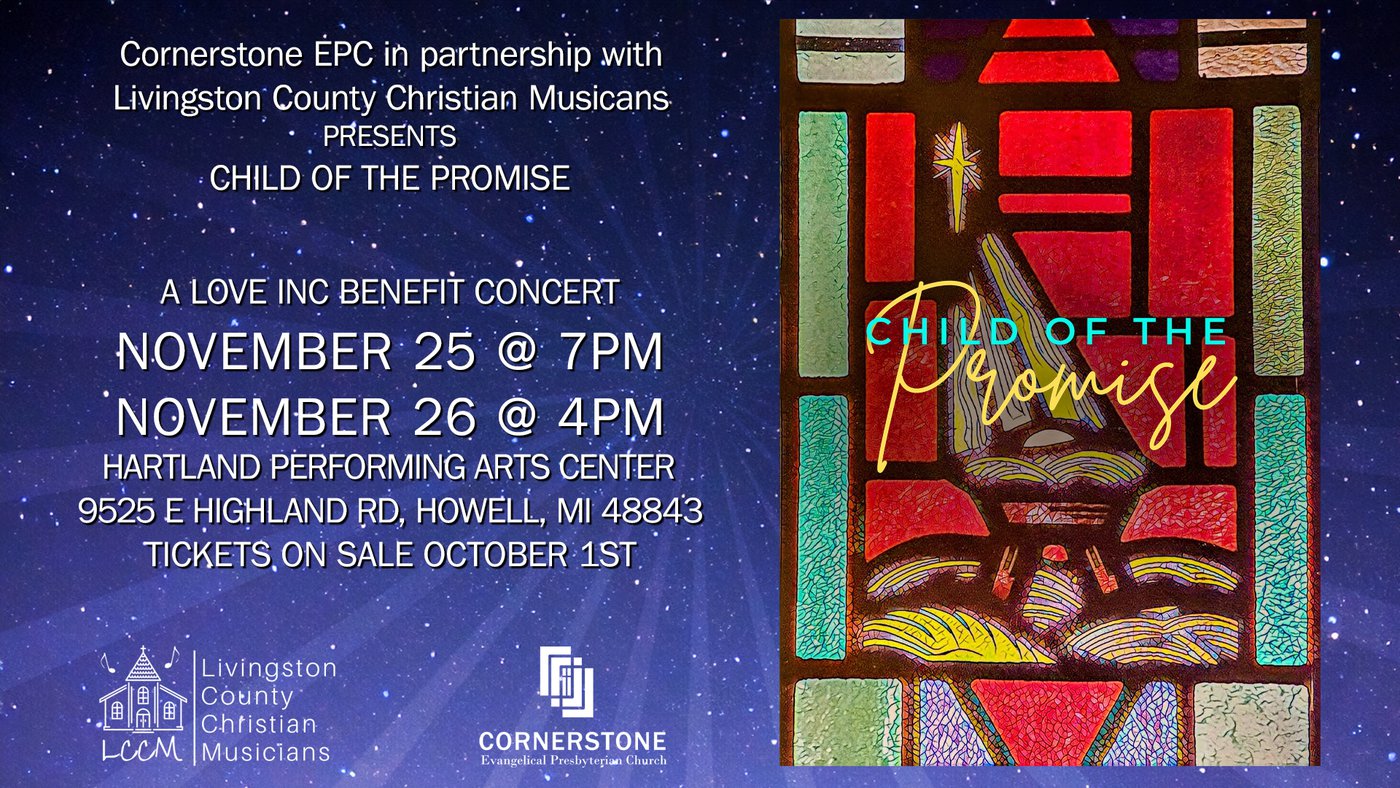 Save the dates!
November 25 and 26, Cornerstone Church is thrilled to partner with Livingston County Christian Musicians for our Christmas Concert with the musical experience, Child of the Promise. This broadway style musical tells the story of the events leading up to the birth of Jesus Christ, will feature many Cornerstone musicians and vocalists, and will be conducted by our very own Chris Winans.
More details coming soon!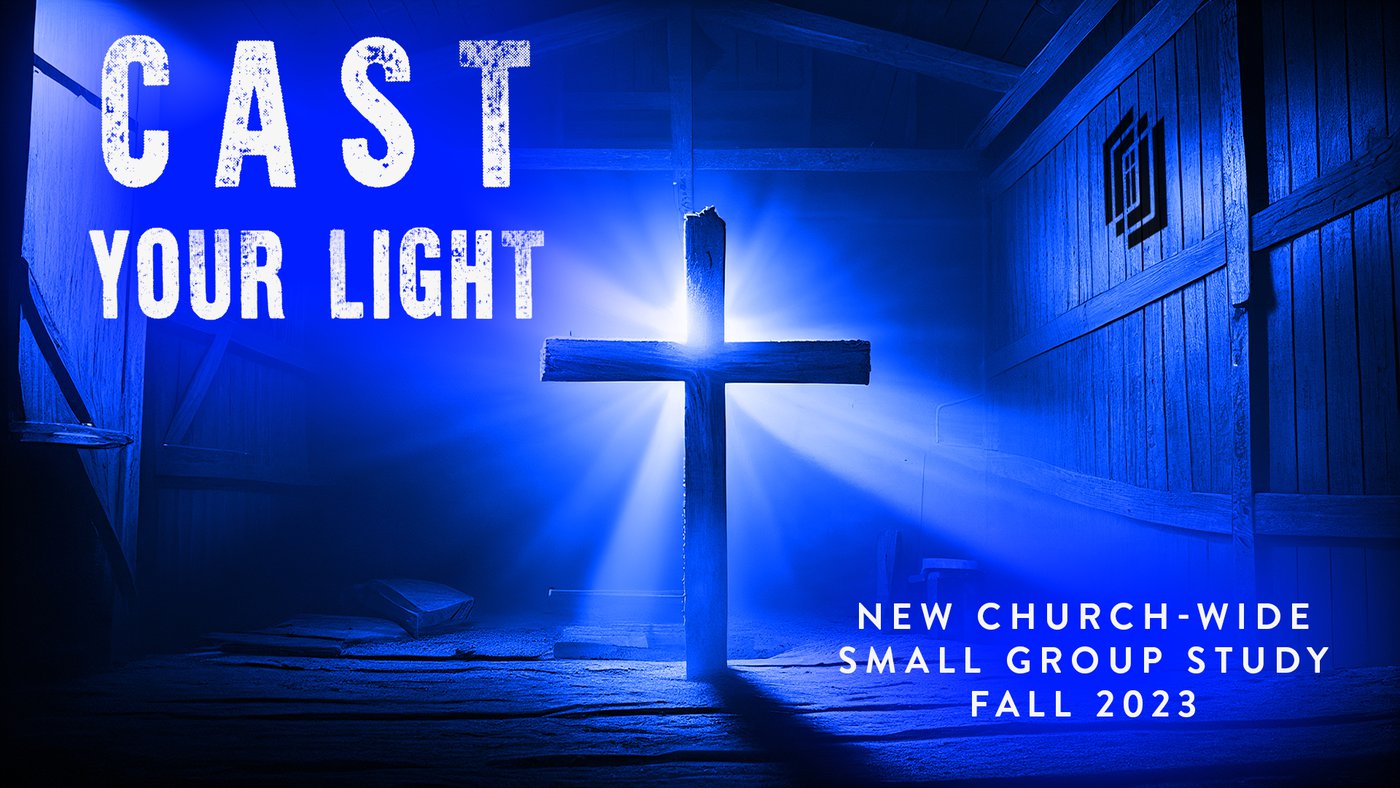 Small Groups begin on September 10th, along with our new Sermon Series called Cast Your Light!
Each week the Sunday Sermon will lead off the content for our original study guides which are based off the book "Before You Share Your Faith" by Matt Smethurst.
This easy to read book will strengthen your faith and equip you to have confident and inspiring conversations about Jesus with the people in your life.
Care Ministry at Cornerstone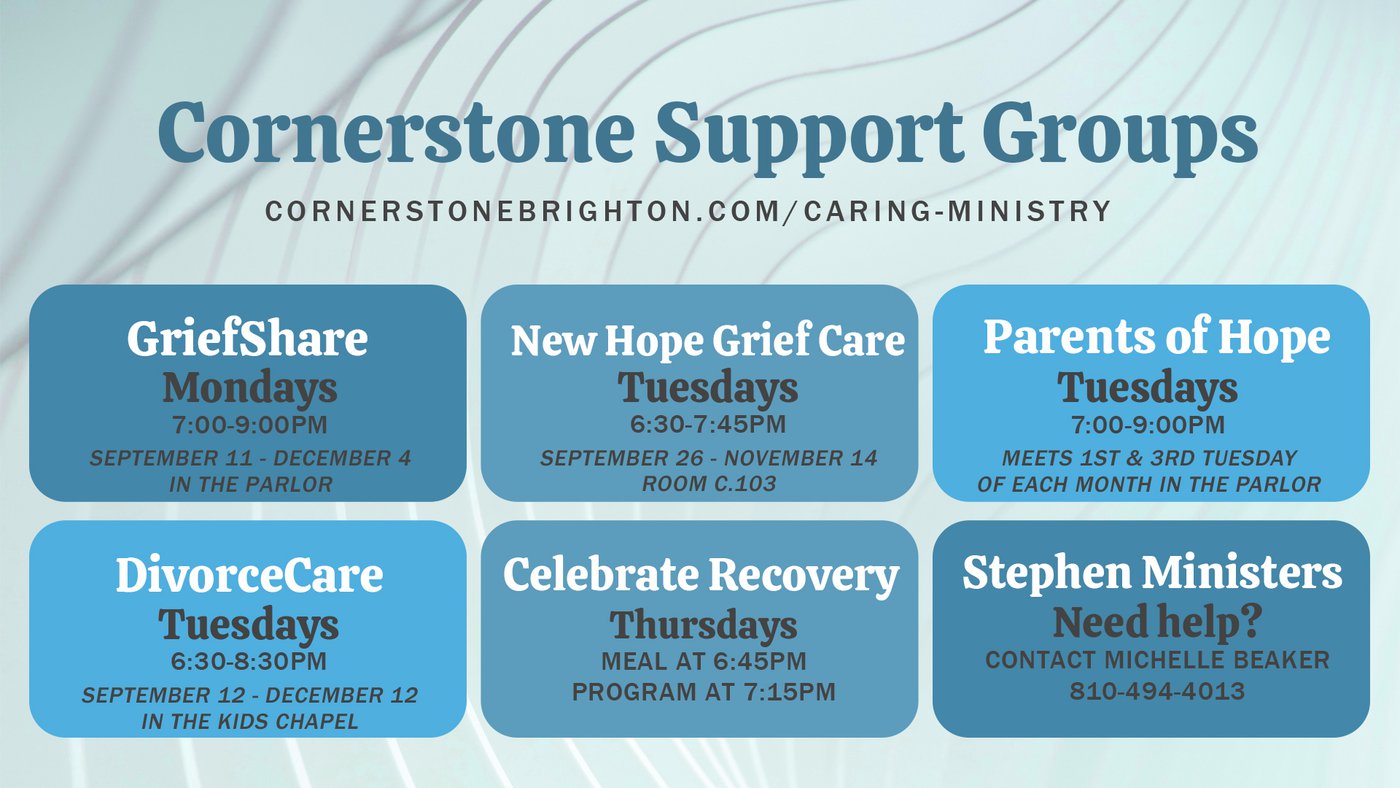 New Fall 2023 Classes and Programming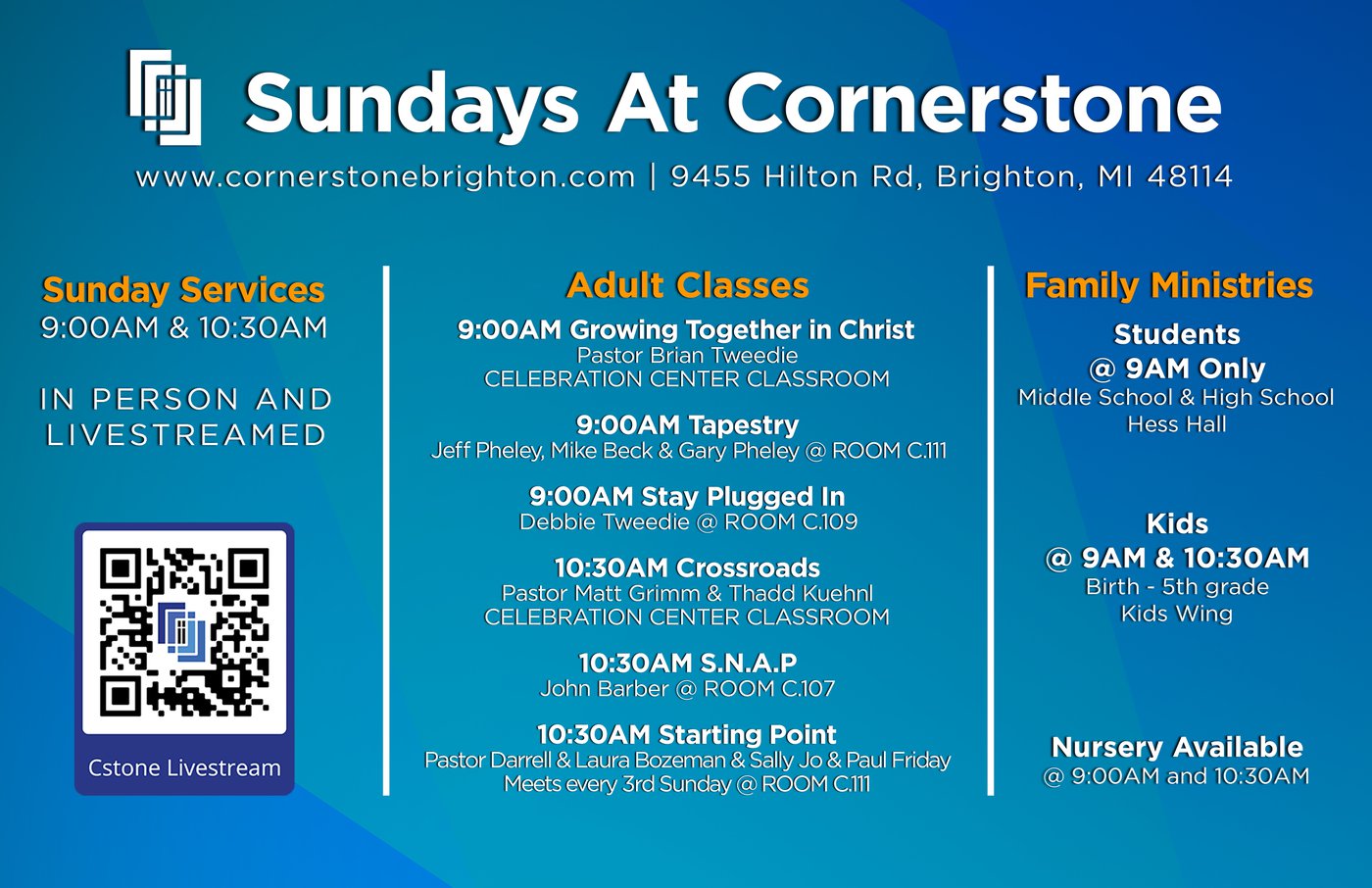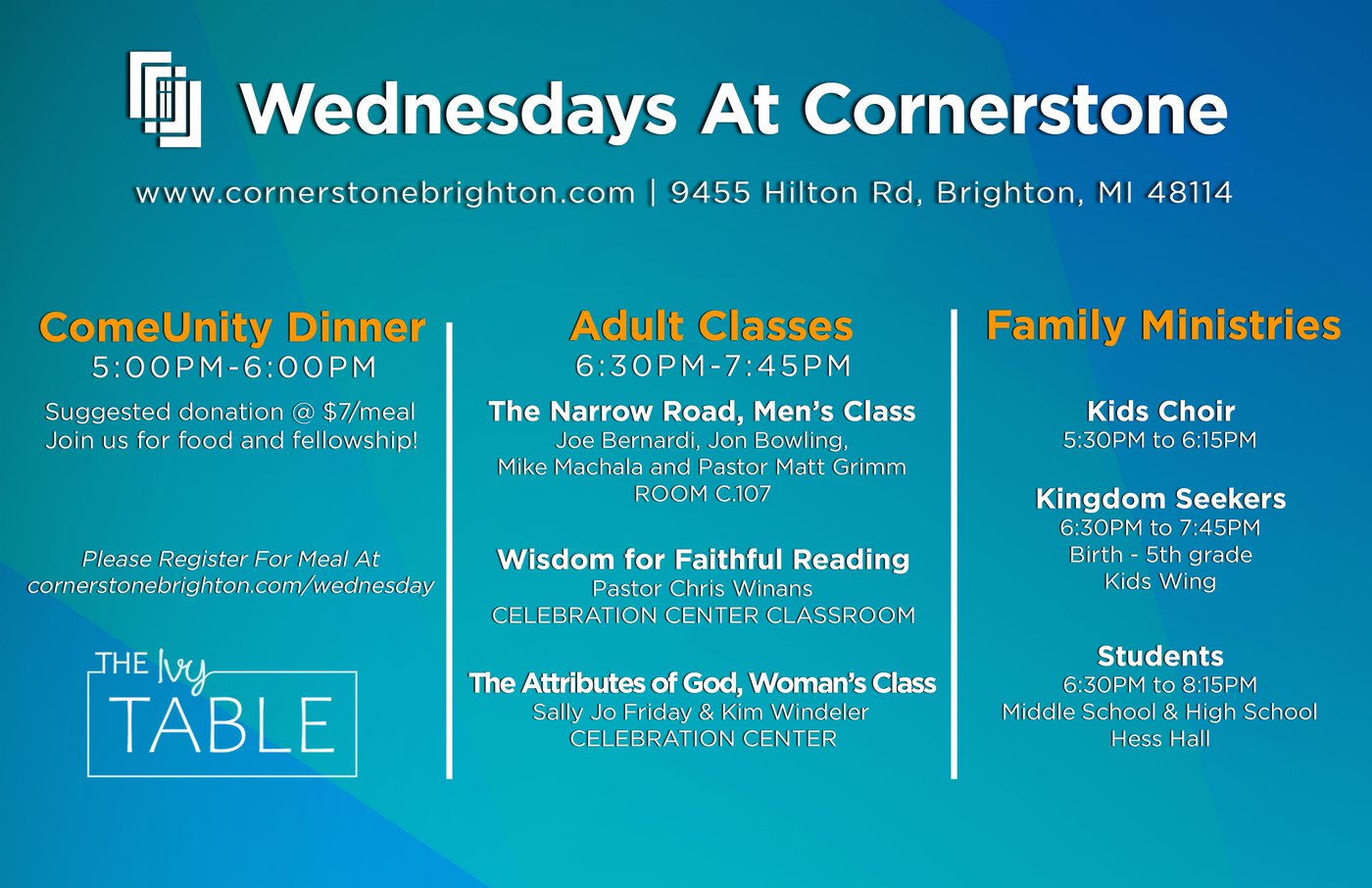 Senior Transportation Ministry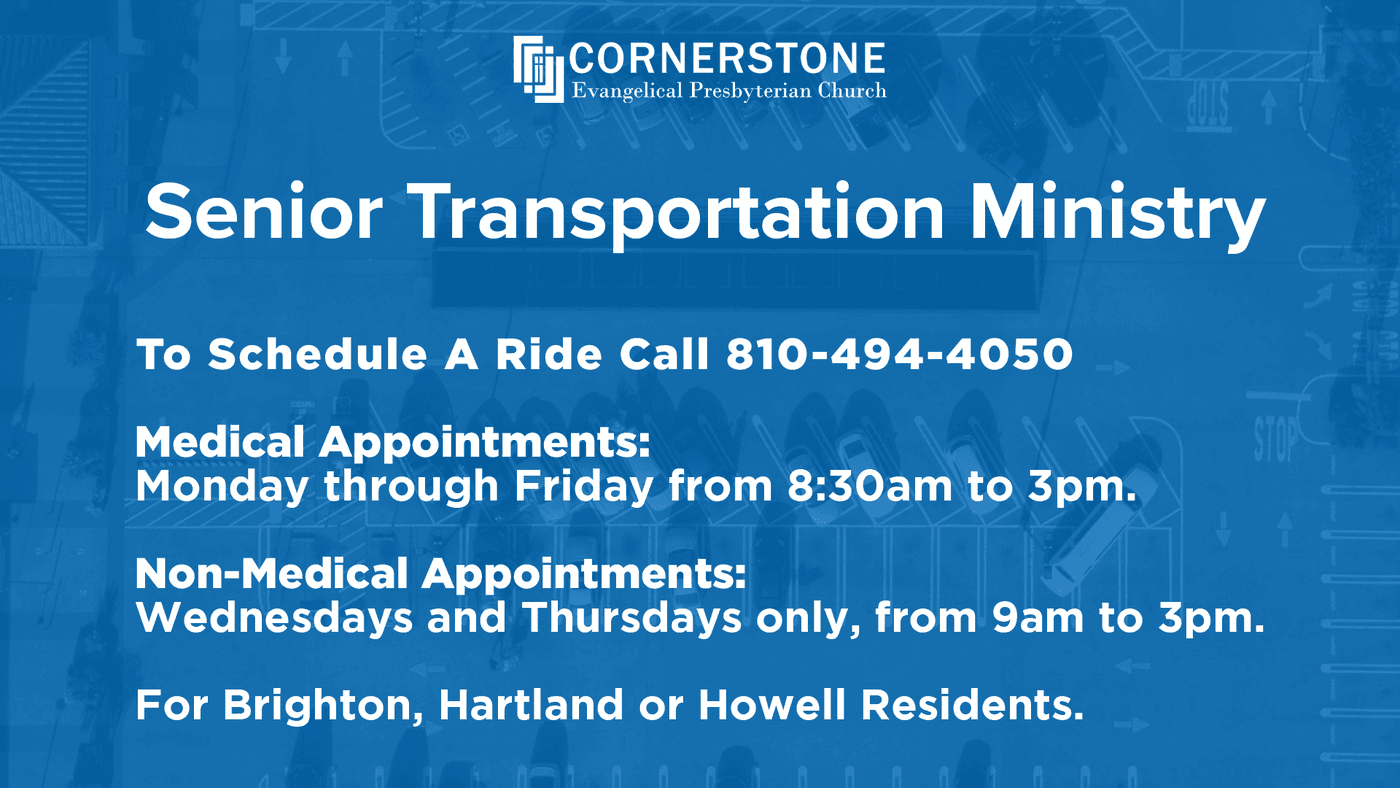 This brand new ministry provides rides for senior adults to medical appointments and other activities, such as grocery shopping, banking, pharmacy, and haircuts.
Call and leave a message with your name, phone number, date and time of appointment, and type of appointment. Your call will be returned by the next business day.
Passengers must live in Brighton, Howell, or Hartland, and the appointments also need to be in these cities.
Additional medical appointments in Ann Arbor and Novi may be possible, depending on driver availability.
Passengers must be ambulatory. Walkers, canes, and oxygen are permitted. Wheelchairs are not.
Appointments need to be scheduled 7-10 days in advance. The maximum time allotted for medical appointments is 3 hours, and the maximum hours for other activities is 2 hours. This includes drive time.
The driver stays with the passenger during the appointment. Drivers must be Cornerstone members or attenders and have training and proof of insurance on file.
Calls may be made at any time to the designated phone line for Senior Transportation Ministry.
Medical appointments will be scheduled for Monday – Friday from 8:30AM to 3PM.
Non-medical appointments will be scheduled for Wednesday and Thursday from 9AM to 3PM.
COST
The cost of the ride is a suggested donation of $10 to Cornerstone EPC to cover a portion of fuel costs – if you are able. Passengers will be asked when scheduling the ride if they can afford the donation.
We look forward to serving you!