Cornerstone Black Friday Sale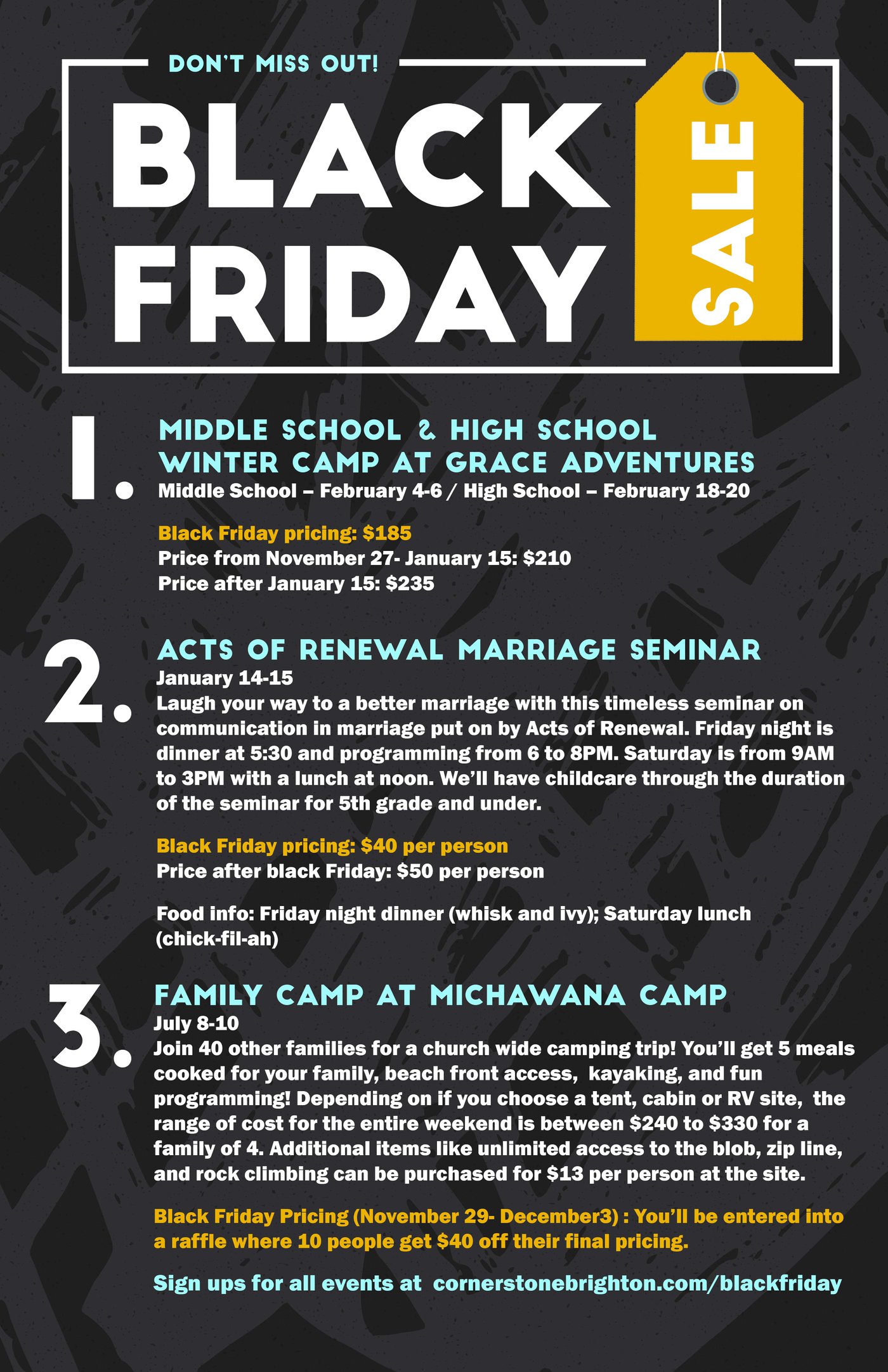 Winter Camp
Middle School February 4th through 6th, 2022.
High School February 18th through 20th, 2022.
Camp Location: Grace Adventures
Black Friday Sale is $185, which is $50 below the actual cost. Prices increase after Black Friday.
Registration Opens November 25
___________________________
Marriage Seminar
January 14-15
Laugh your way to a better marriage with this timeless seminar on communication in marriage. We'll have free child care throughout the duration of the seminar. Acts of Renewal will be leading this Marriage Seminar on Friday, January 14 and Saturday, January 15, here at Cornerstone. Childcare will be provided at no cost.
Friday Night dinner will be Chick-fil-A. Saturday lunch will be catered by Whisk and Ivy.
Black Friday Sale (November 25 and 26) for Marriage Seminar, $40 per adult. No charge for children.
Price increases after Black Friday, starting November 27, to $50 per adult.
Registration Opens November 25
___________________________
Family Camp
July 8-10
Join 40 other families for a church-wide camping trip to Michawana Camp! From Friday night through Sunday morning, you'll get 5 meals cooked for your family, beachfront access, kayaking, and fun programming! Depending on if you choose a tent, cabin, or RV site, the range of cost for the entire weekend is between $240 to $330 for a family of 4. Additional items like unlimited access to the blob, zip line, and rock climbing can be purchased for $13 per person at the site.
Black Friday pricing is for the week of Nov 29 - Dec 3. Register on these dates, and you'll be entered into a raffle where ten people get $40 off their final pricing. Unfortunately, you cannot sign up earlier than November 29 because their offices will not be open.
Registration Opens November 29
FILLING OUT BOTH FORMS BELOW IS REQUIRED.
___________________________