Preregister your Child for Sunday Morning
You are no longer required to preregister your children for Sunday Morning. Kiosks are available to check-in/register your children (birth - 5th grade) as you arrive at Church on Sunday.
Events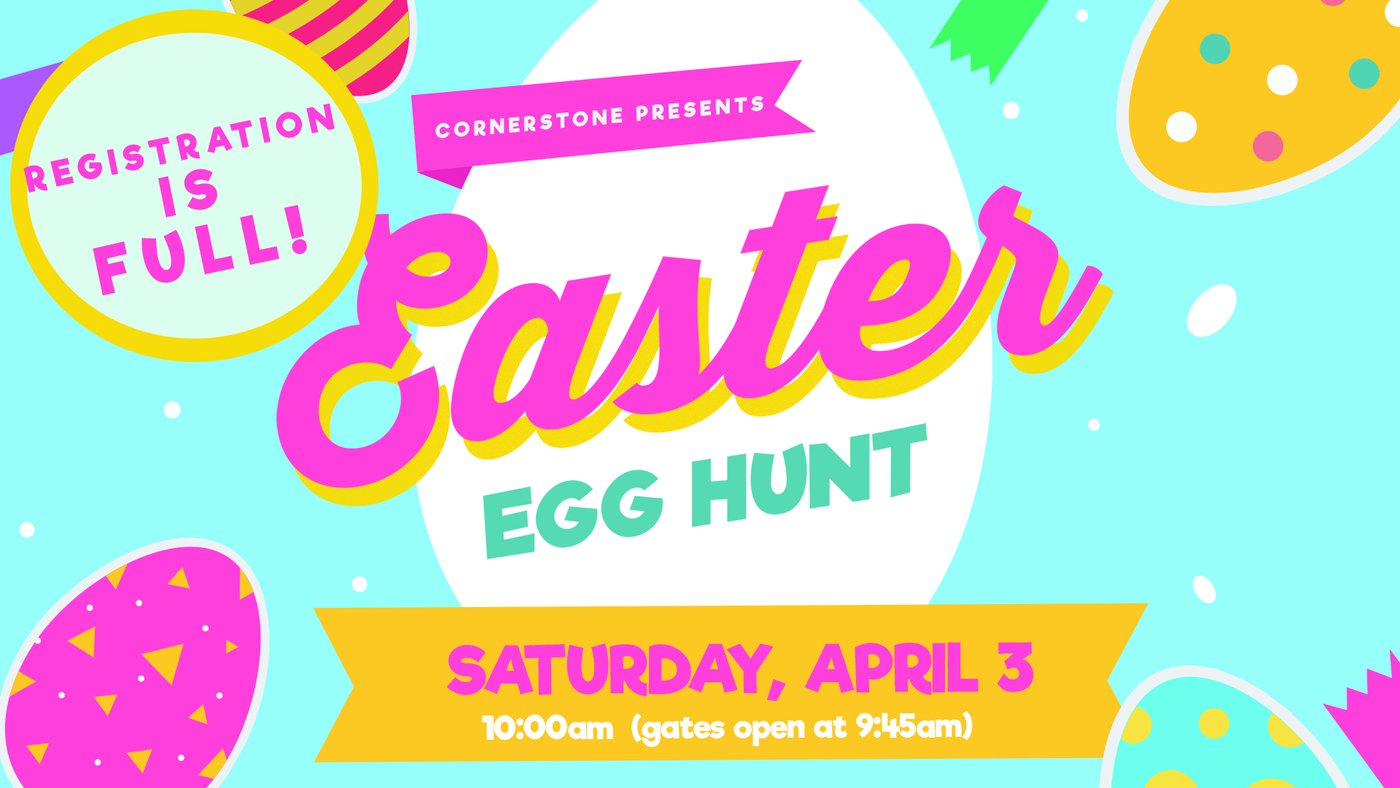 April 3 | 10 AM-Noon
Celebrate Christ's resurrection with us on April 3, 2021, from 10 AM-Noon with an Easter Egg Hunt! Activities include carnival games, a hot cocoa bar, a petting farm, and an egg hunt. Bring your own Easter basket or bucket to collect all your eggs. Enjoy some fellowship with other families as we look forward to Easter Sunday. Registration is full!
We need volunteers to come alongside us and help make this event successful!
Click the button below to see how you can help.
2nd & 3rd Bible Class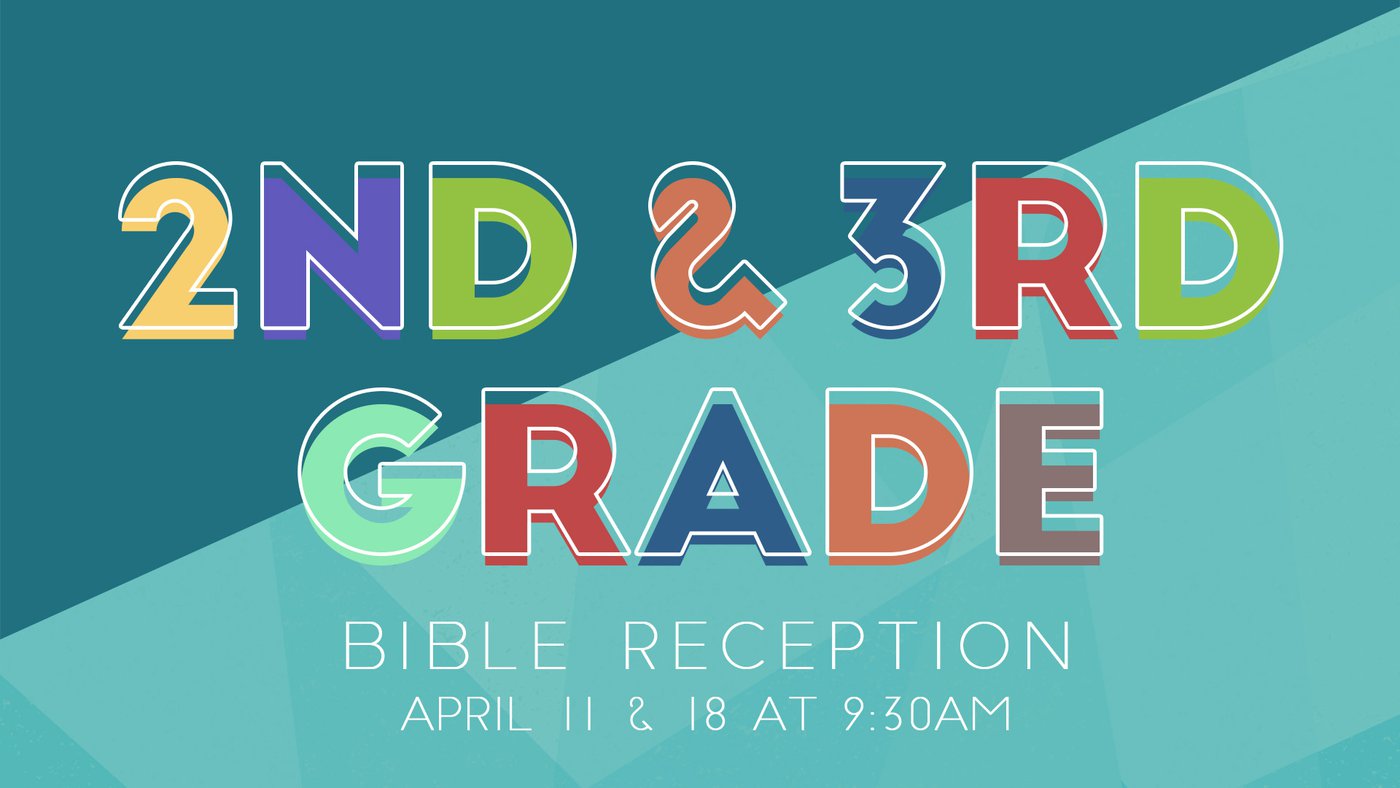 Cornerstone Family Ministries would like to partner with you as you teach your child to read the most important book - The Holy Bible. Parents, come with your 2nd or 3rd grader on April 11 and April 18 at 9:30 in Room 101 as Family Pastor Brandon LaFontaine teaches how to get the most out of Bible reading. All children who participate in the class will be gifted a Bible, and families will be honored and prayed over in a presentation during the 11:00 worship service on Sunday, April 18.
Services
Sundays
Nursery, Early Childhood programming will be available at 9:30 and 11:00 am.
Elementary programming is available at 9:30 am and 11:00 am.
Parents are welcome to keep their children with them in the Sanctuary, and activity bags are available.
Family Tables are available in the Celebration Center, which provides you with a space to bring snacks and activities to keep your children busy while the service is shown on the screen.
Reservations are required weekly for each of the above options and can be made through the website. Sign-ups will go live each Monday at 9:00 AM and close Friday at 10:00 AM.
If you cannot register by 10 AM on Friday and would like to bring children to programming, please contact Renee Hinkle-De Groot at rdegroot@cstoneepc.com.
Wednesdays
Kingdom Seekers returns on Jan 6 at 6:30 pm for birth – 5th grade.
1st – 5th graders should be dropped off at the Chapel this year, where they will have Large Group Worship and a lesson. Kids will then split into small groups by age and dive deeper with prayer, lesson discussion, and Bible memorization.
Kids will return to the Chapel for games and can be picked up at the Chapel by 7:45 pm.
Ministries
Nursery - (infant - 2 years)
Sunday Morning at 9:30 & 11:00 am
Children are divided into age-appropriate rooms staffed with a permanent supervisor and carefully screened volunteers. We pray that your child's Sunday School experience is just the beginning of a life-long love for God and His church.
Early Childhood - (age 3 - Kindergarten)
Sunday Morning at 9:30 & 11:00 am
The Early Childhood Department partners with parents to disciple children, ages 3 through Kindergarten. Our preschoolers look forward to Bible stories, playtime, crafts, songs, and puppets. Take-home lessons provide parents an opportunity to review weekly teaching.
Elementary - (grades 1-5)
Sunday Morning at 9:30 and 11:00 am
The Elementary Department is committed to partnering with parents to encourage first through fifth-grade children in a personal relationship with Jesus Christ. We are dedicated to teaching God's Word and providing opportunities to build relationships with one another.
About Us
Why We Do What We Do
OUR MISSION:
"To nurture and equip children to know the heart of God, in order that they might have a personal relationship with Jesus Christ and serve Him."
"How can a young person stay pure? By obeying your WORD and following its rules. I have hidden your WORD in my heart, that I might not sin against you... Your WORD is a lamp for my feet and a light for my path...
Psalm 119: 9, 11, 105
WE BELIEVE:
EVERY child is a gift from God.
God's Word should be taught and applied in a manner that is relevant to the child.
Our role is to support and encourage families in raising their children to "love the Lord our God" with their entire being.
Our activities and classes should be fun, creative, and carried out with excellence.
Equipping and empowering our staff is necessary to teach children.
Parental partnership is essential to the success of the ministry.
FAQ
Cornerstone's Children's Ministry program is designed for infants through Grade 5 and runs concurrently with the 9:30 & 11:00 am services Sunday mornings.
I'm just visiting, can my children stay together?
Absolutely. We ask that an older child stay in the room with the younger child. Parents are also welcome to visit their child's class.
What safety procedures are in place?
We are committed to teaching your children the Good News of Jesus Christ in a safe, secure environment.
All Cornerstone staff and volunteers are required to complete a Ministry Screening Application.
Two approved workers are present in every room at all times.
Volunteers are instructed in safety procedures, and all teachers are members of Cornerstone.
The Nursery and Early Childhood departments enforce an identification procedure at drop off and pick up. It is your responsibility to sign in and pick up children on the weekly sign-in sheets, allowing teachers to know where to reach you. For safety's sake, please do not drop off your child in an unattended room.
Info
Update Your Information
We are so excited for your kids to be a part of Children's Ministry! Please update your children's information to allow us to serve you better.
To help us keep our information up to date and to help you have a smooth check-in experience, please log in to MyCC and update your contact information. If you need assistance, either read our tutorial or give us a call at 810-227-9411!
MINISTRY WITH MINORS
CONTACT US!
Contact: Renee Hinkle-DeGroot
Director of Children's Ministry
Phone: 810-227-9411
Email: rdegroot@cstoneepc.com