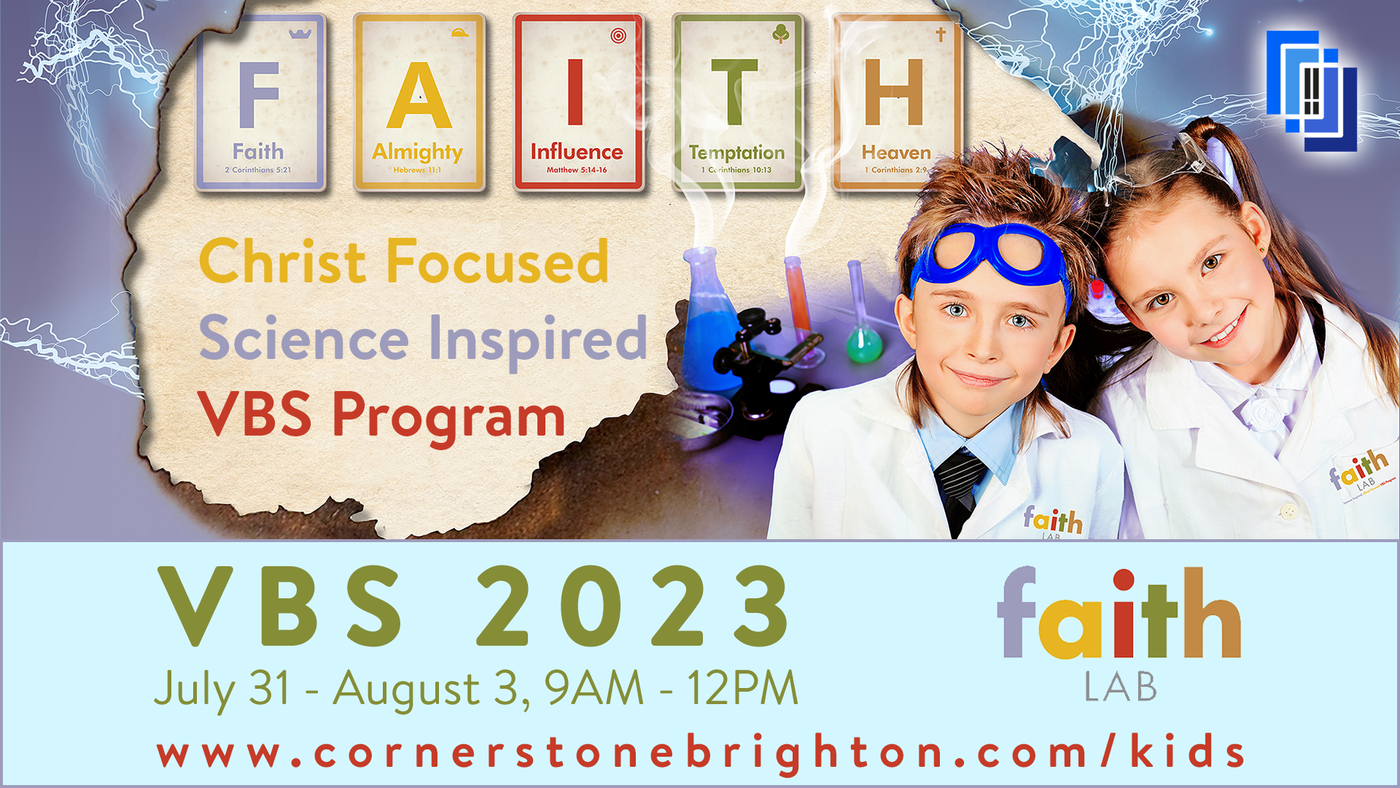 Faith Lab VBS.... where Jesus + Science = Kids Transformed!
WHO. Incoming Kindergarteners through outgoing 5th Graders
WHEN. 9AM to 12PM, Monday July 21 to Thursday August 3.
WHERE. Cornerstone EPC
Don't miss this awesome week of cool science with a gospel focus for incoming K-5th graders. Kids will get to do real, hands-on experiments, worship & learn through Christ focused, science inspired devotionals.
Space is limited... Register below today!
Volunteers and Donations are needed for this FREE event.
Upcoming Events
6.14 Summer Hang | Genoa Park Takeover @ 6:30-8PM
Meet us at Genoa Park for a summer playdate. Look for our Kidmin Team with blue lanyards!
6.28 Summer Hang | Meet Up & Eat Up at Settler's Park @ 10:30-12:30PM
Pack a lunch for some picnic & playtime with us. Look for our Kidmin Team with blue lanyards!
7.6-7.9 Family Camp at Camp Michawana
Join other families for a church-wide camping trip to Michawana Camp! From Thursday night through Sunday morning, you'll get ALL the meals cooked for your family, beach front access, kayaking, and fun programming! Depending on if you choose a tent, cabin or RV site, the range of cost for the entire weekend is between $275 to $360 for a family of 4. Additional items like unlimited access to the blob, zip line, and rock climbing can be purchased for $13 per person at the site. You need to register in 2 places:
1) Register Here for Meals
2) Register Here for Campsite. This link will let you sign up for a tent or RV site. If you want to sign up for a cabin site (limited availability) then you will need to call 269-634-5168 to see if a cabin is still available. All payments made directly to Michawana Camp through their website.
7.12 Summer Hang | Kensington Splash 'N' Blast @ 10AM-12PM
Cool off with us at Kensington Splash Pad! We've reserved the pad for Cornerstone guests at 10AM. The park opens to the public at 11AM, but you're welcome to stay and play all day! This is a FREE event when you PRE-REGISTER. Sign up HERE!
7.26 Summer Hang | Cornerstone Playground Take Over @ 6:30-8PM
Stop by & hang with us at Cornerstone's playground for a playdate. Look for our Kidmin Team with blue lanyards!
7.31-8.3 Faith Lab VBS @ 9AM-12PM
Don't miss this awesome week of cool science with a gospel focus for incoming K-5th graders. Kids will get to do real, hands-on experiments, worship & learn through Christ focused, science inspired devotionals. Register HERE.
Volunteers and Donations are needed for this incredible event.
Questions about any of our Upcoming Events? Email Us.
Services
Sundays
Sunday Mornings | 9 AM & 10:30 AM
Kids Programs are available at 9 AM & 10:30 AM for infants through 5th grade. We offer age-based classes that are both biblically rooted & relationally driven, with a desire to see children develop a close, personal faith in Jesus Christ. Sundays always include bible teaching through story telling & discussion, play, activity & worship.
Nursery | 0-2 years
Pre-K & K | 3-5 years
Kids Church | 1st to 5th grades
Parents are also welcome to keep their children with them in the Sanctuary & busy bags are always available.
Sunday Evenings | 5 PM
Our Sunday evening service takes place at 5:00 PM in the Celebration Center. This intimate service encourages us to embrace the Sabbath through a day of rest & worship. Both the message & worship are different from Sunday morning & communion is practiced weekly.
Children's Programming is available for 5-year-olds and under.
We ask that you register by Noon on Sunday.
Wednesdays
kingdom seekers | 6:30 PM
6:30 - 7:45 PM for Birth – 5th grade
Kingdom Seekers is a can't miss event for Kids at Cornerstone!
Every week kids will hear amazing Bible stories during large group lessons & activities, followed by small group discussion, games, & even recreation time. Monthly memory verses are taught & kids are given a chance to recite verses throughout the month. This weekly event is meant to encourage scripture memorization with a goal of planting the Word of God deep in the hearts of our children, while also encouraging kids to grow spiritually & gain friendships in the body of Christ.
Nursery | 0-2 years
PreK & K | 3-5 years
Chapel |1st – 5th grades
More About Our Ministry
Nursery - (infant - 2 years)
Our littlest children are grouped developmentally into rooms staffed with a permanent supervisor and carefully screened volunteers. We believe that familiar faces & warm caregivers are the first step to a life-long love for God and His church.
Pre-K & K (ages 3 - 5)
In Preschool & Kindergarten our goal is to partner with parents in discipling their children by bringing Christ into everyday moments. Children can look forward to Bible stories, playtime, crafts, songs, and singing. Each week families are given lesson follow-ups to continue connecting with Christ at home.
Elementary - (grades 1-5)
Our Elementary Program is committed to encouraging first through fifth-grade children in a personal relationship with Jesus Christ. We aim to be biblically rooted & gospel centered while building meaningful relationships with one another. Each week we are dedicated to teaching God's Word through story telling & bible application, while also partnering with families to go deeper at home.
About Us
Why We Do What We Do
OUR MISSION:
"To nurture and equip children to know the heart of God, in order that they might have a personal relationship with Jesus Christ and serve Him."
WE BELIEVE:
EVERY child is a gift from God.
God's Word should be taught and applied in a manner that is relevant to the child.
Our role is to support and encourage families in raising their children to "love the Lord our God" with their entire being.
Our activities and classes should be fun, creative, and carried out with excellence.
Equipping and empowering our staff is necessary to teach children.
Parental partnership is essential to the success of the ministry.
FAQ
Cornerstone's Kids Ministry program is designed for infants through 5th Grade.
When are Kids Ministry programs available?
Kids programs are available every Sunday at 9 AM & 10:30 AM.
On the 5th Sunday of the month we have Family Worship Services. During these special Sundays, Kids Ministry programs are available for Birth to Kindergarten, while children 1st grade & up attend service with their families.
I'm just visiting, can my children stay together?
Absolutely. We ask that an older child stays in the room with the younger child. Parents are also welcome to visit their child's class.
What safety procedures are in place?
We are committed to teaching your children the Good News of Jesus Christ in a safe, secure environment.
All Cornerstone staff and volunteers are required to complete a Ministry Screening Application.
Two approved workers are present in every room at all times.
Volunteers are instructed in safety procedures, and all teachers are members of Cornerstone.
We enforce an identification procedure at drop-off and pick-up.
All Children must be checked in at our check-in stations & should receive a security tag. Caregivers will need a matching security tag in order to pick up their children.
Update Your Information
To help us keep our information up to date and to help you have a smooth check-in experience, please log in to MyCC and update your contact information. If you need assistance, either read our tutorial or give us a call at 810-227-9411!
MINISTRY WITH MINORS